Romance is in the Air at Brentwood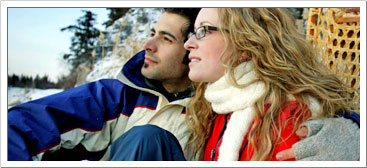 Romance is in the air at our "Be My Valentine" Couples Getaway.
We've created a special time for you and your spouse or significant other to escape together. Our Romantic Weekend Getaway is customized to fit with your personal style.
Consider the following options…borrow our pass to the Pinery Provincial Park and head out on the many trails with your cross country skis or snowshoes.
Return to our hot tub and infrared sauna at  Brentwood. Swim in the salt water pool and lounge in our heated pool area while looking out at the snow and ice on the lake.  Relax and pamper yourselves with individual spa treatments of your choosing. Enjoy delicious, full course meals in our dining room overlooking Lake Huron. Our winter sunsets are breath taking. Curl up fireside at the end of the day with a good book or movie and a glass of wine- a time to reconnect. A great gift for your sweetheart!
All inclusive 2 night stay includes All Meals 
Spa treatments available at additional cost and must be booked in advance
Subject to availability
Paint Ontario
- 17th annual Juried Show  from Mar 9-31,  our 
Hobby Retreats and our

Hooks 'n Books Weekend

to  which we will devote a separate newsletter. 
Consider enjoying your March Break week with us at Brentwood and all that we have to offer.
March 9-31, 2013
Canada's Premiere Juried Art 
Competition
, Exhibition & Sale of Representational Art
This competition and show celebrates the work of representational artists and the beauty of the Province of Ontario, including the Great Lakes shorelines. This competition presents the spirit and beauty of this magnificent area as portrayed by some of our finest artists, with all submitted works for sale. 
Guests are beginning to book in anticipation of the arrival of the swans. Our surrounding area is one of the first "stops" the Tundra Swans make after leaving the wintering grounds off the coast of Maryland.
From Chesapeake Bay in Maryland to the high Canadian Arctic, Tundra Swans make the 6000 km round trip journey mid March each year and arriving in the Arctic by the beginning of May. While resting on this "staging area" for a two week duration, the Tundra Swans are a spectacular sight and offer an excellent opportunity to view one of the last great wildlife migrations.
See you at the beach!
Joan and Peter
Brentwood on the Beach